International Relations Office
Escola Politécnica Da USP – Engineering School
The International Relations Office of Escola Politécnica of the University of São Paulo (The Engineering School) has a staff of 6 people and aims to promote students, faculty and researchers' mobility by enhancing cooperation and helping with mobility logistics. In June, 8 2015 Poli celebrates the 1000th Double Degree of Escola Politécnica, involving 840 Poli students and 160 students of partner institutions. Nowadays, IRO-POLI has over 200 international agreements with several High Education institutions all over the world. Students and faculty members enjoy a multicultural environment with people of different cultural backgrounds. The large number of agreements with foreign High Education Institutions is one of our differentials, an advantage both for Brazilian and for foreign students.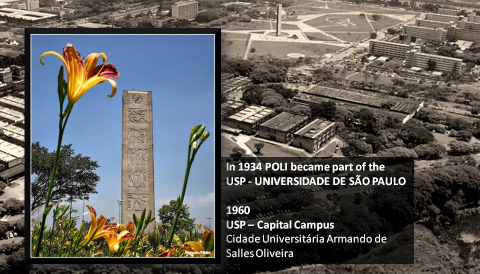 Among other activities, our main tasks are:
 •
 Provide counseling and assistance for international students;
 • Advise Escola Politécnica graduates and undergraduates students on matters related to exchange study programs abroad and applications;
 • Support all the Faculty Members of Poli regarding to the administrative negotiations for the establishment of international academic partnerships;
 • Provides all the conditions necessary for exchange students from all over the world.
About Escola Politecnica of the University of São Paulo
The Escola Politecnica of the Universidade de São Paulo (Poli/USP) celebrates its 120th anniversary in 2013. Founded in 1893, the then denominated Escola Politécnica de São Paulo was integrated to USP in 1934. Turned into a national reference, it is considered the most complete engineering school in Latin America and dedicates its best efforts towards consolidating as a world class High Education Institution. By combining tradition and modernity, Poli has always been a synonym for quality and competence.
Escola Politécnica is an Engineering School that has 15 teaching and research departments and encompasses, 17 different courses divided into the 4 grand areas of concentration: Civil, Chemical, Electrical and Mechanical:   
Escola Politecnica is located at Cidade Universitária (Campus São Paulo, Capital). There is regular public transportation from the Campus to Metro Station (Metro Butantan). There are another Campus: Santos City (Petroleum course).